CAR COSMETICS
Highly concentrated eco-friendly detergents that you can use in your daily work

50 to 1 Glass Cleaner
Free of ammonia, safe for tinted glass, alcohol-based glass cleaner, highly concentrated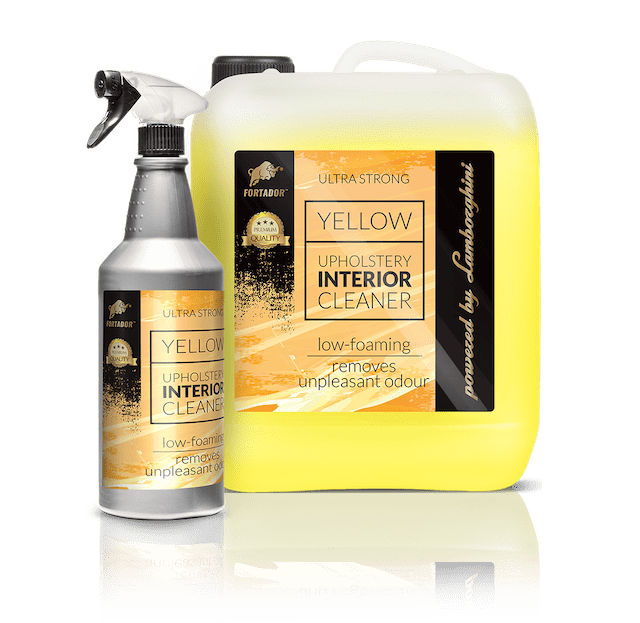 Yellow Interior Cleaner
Ultra-strong degreaser, absolutely safe for cleaning internal materials, with a nice Fortador formula smell, suitable for removing light and medium dirt with a hand brush or extractor.
Magic wash
Highly concentrated polymer-based washing solution that can be used as APC grease, clay and anhydrous.
Magic Handwash
Anhydrous polymer-based agent with wax additives that can be used to rinse a car before steam washing or maintenance washing
White Nano Wax
Durable and easy to use spray wax that can be used on cars, motorcycles, boats to protect the paint from the sun and add a perfect look.
Heavy Degreaser
Degreaser for heavily soiled surfaces, such as: engine, wheels. Ideal for commercial cleaning.
Tire Gel
Ideal for high-gloss finishing of tyres and plastic elements.
Limescale Remover
Concentrated descaling agent for steam and water washers, acid-resistant kitchen appliances, as well as for other household appliances and components.
Perfect for moisturizing,
refreshing and regenerating leather, plastic and vinyl parts,
based on avocado oil.
IPA Paint Cleaner
IPA Cleaner with solvents to remove polishing residues or additional cleaning before applying protective materials for better bonding.
Kevlar ceramic coating
Ceramic coatings that will protect the bodywork, rims, windows and interior of your vehicle. It will make sure your car will gain a perfect look.
Car Wash and Detailing Starting Set of Supplies
A complete set of all Fortador cleaners, microfibre towels, steam cleaner maintenance parts. The set is enough for more than 250 washes.
Kevlar ceramic coatings
If you really want your car to look sensational,
consider buying Kevlar products as soon as possible!
It is an excellent solution for securing the bodywork, rims, windows and the interior of the vehicle.
This product is the most frequently chosen accessory
by car dealers and professional auto detailers.
SPECIAL FINANCING OFFER FOR NEW BUSINESSES
Why is it worth using a Kevlar ceramic coating?
If you really care about protecting the body and interior of your vehicle, make sure to choose our ceramic coating by Kevlar! Unlike wax, it protects more permanently and does not require repeated application, but only local restoration. Did you know that Kevlar is more durable than steel and resistant to stretching? It will provide effective protection against destruction!
Fade protection
Kevlar applied to the dashboard makes it more resistant to UV rays and fading.
Safety while travelling
Kevlar means better visibility in rain and snowstorms. The clearer the windshield, the better the visibility. Kevlar "repels" water drops and snowflakes, so that they do not settle on the glass, but flow off it, providing driving comfort and a greater sense of security and control over the car.
Longer fabric life
Kevlar is a guarantee of easier cleaning and longer life of fabrics. Our coating creates a protective barrier on the seats, which makes the fabrics easier to clean and better protected against penetration of dirt or spilled drinks into the material. Thanks to such a protective layer, it is much easier to vacuum and remove dust, sand or dirt before they permeate the material and eventually damage it.
Protection against contaminants and polluting factors
Kevlar offers excellent protection for the vehicle against contaminants and/or pollutants that can irreversibly damage its body.
A car with a high-gloss polish
Kevlar will make your vehicle well-groomed and shiny.
UV protection shield
The ceramic coating with Kevlar will leave a special layer on the paint, which will help protect the vehicle from the harmful effects of sunlight.
Go to the Kevlar website
and find out more…
Business hours
Monday – Friday: 8:30 – 17:00