CAR COSMETICS
Highly concentrated eco-friendly detergents that you can use in your daily work

50 to 1 Glass Cleaner
Free of ammonia, safe for tinted glass, alcohol-based glass cleaner, highly concentrated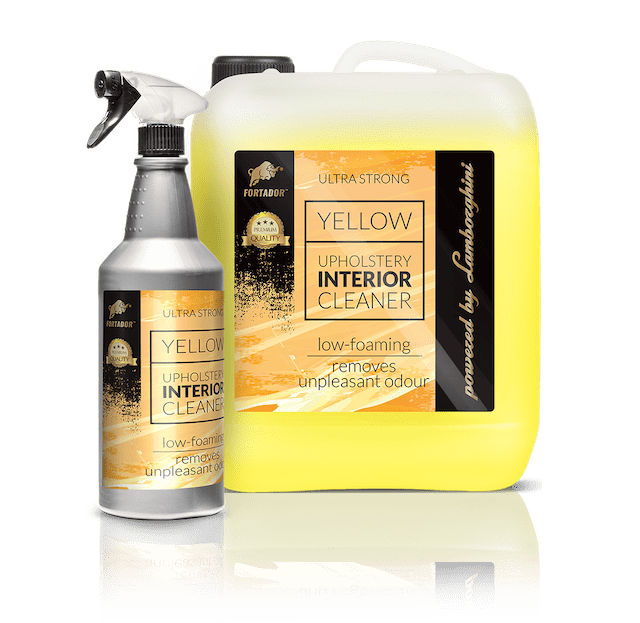 Yellow Interior Cleaner
Ultra-strong degreaser, absolutely safe for cleaning internal materials, with a nice Fortador formula smell, suitable for removing light and medium dirt with a hand brush or extractor.
Magic wash
Highly concentrated polymer-based washing solution that can be used as APC grease, clay and anhydrous.
Magic Handwash
Anhydrous polymer-based agent with wax additives that can be used to rinse a car before steam washing or maintenance washing
White Nano Wax
Durable and easy to use spray wax that can be used on cars, motorcycles, boats to protect the paint from the sun and add a perfect look.
Heavy Degreaser
Degreaser for heavily soiled surfaces, such as: engine, wheels. Ideal for commercial cleaning.
Tire Gel
Ideal for high-gloss finishing of tyres and plastic elements.
Limescale Remover
Concentrated descaling agent for steam and water washers, acid-resistant kitchen appliances, as well as for other household appliances and components.
Perfect for moisturizing,
refreshing and regenerating leather, plastic and vinyl parts,
based on avocado oil.
IPA Paint Cleaner
IPA Cleaner with solvents to remove polishing residues or additional cleaning before applying protective materials for better bonding.
Car Wash and Detailing Starting Set of Supplies
A complete set of all Fortador cleaners, microfibre towels, steam cleaner maintenance parts. The set is enough for more than 250 washes.
SPECIAL FINANCING OFFER FOR NEW BUSINESSES
Business hours
Monday – Friday: 8:30 – 17:00